Syringe filters
Multifunctional, individually wrapped syringe filters with female Luer-Lock inlet and male Luer-Slip outlet – suitable for all syringes with Luer connection. See offer prices below.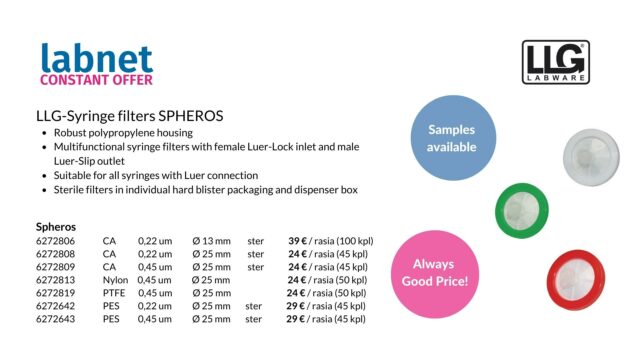 Valid for now.
Cell counter slides
From the developer and manufacturer of Countess and Countess slide, NanoEntek C-slide Cell Counting Slides. No need for coverslips, disposable and made of sturdy optical grade plastic. Great price: 80 euros / 50 slides (100 tests).
Valid for now.
Promega: Buy 3 get 1 extra for free!
The traditional campaign is here once again! Buy three of the same products and receive 4th product free of charge. FuGENE products are not included in the campaign. Read more here.
Use promo code 4F3 to redeem the offer, available for orders made before November 30th.
Finnpipette kit offer
Is it time to update your lab's pipettes? Four different Finnpipette kits on offer. Example: F1 GLP Kit 2: four pipettes (0,2-2 | 2-20 | 20-200 | 100-1000 ul) and a pipette stand now for 820 euros (list price 959 euros). Read more here.
Offer is valid until 15.12.2022
Axyspin refridgerating microcentrifuge – vortex for free
Purchase the Axygen Axyspin refridgerating microcentrifuge and you will receive an LLG Vortex as a gift! Promotion price 3 950 euros (list price 5 370 eur). LLG Digital Vortexer uniTEXER 4 is worth 315 euros. Read more here.
Offer is valid until 30.11.2022
Autumn offers on lab instruments and pH buffer solutions
Offers on e.g. Corning products such as pipet controllers, centrifuge tubes, culture dishes, well plates… And Sartorius balances, LLG ovens, pH buffer solutions. Read more here.
Redeem with code AUTUMN22. Valid until 31.12.2022.
New LabnetTOPS is out!
Read about Activ Motifs products and resources for epigenetics research (podcast, webinars etc.). Learn about Biosan life science instruments! Did you know that Promega has a phD student support program and a new transfection product? Read it all here.
Newest LaborTOPS is out!
Read this year's fourth LaborTOPS! Offers on LLG products such as low retention filter tips, serological pipettes and pipette controllers. Check out the offer on microbiological rapid tests by Lovibond! Also many offers on other life science products such as sticky mats and dry baths. Read the brochure here.