Are you working with 3D cell culture or are you using animal-derived matrices like collagen or Matrigel in your research? Have you ever encountered challenges with product availability or variation between lots? Or have you been working on imaging and ran into problems with product's autofluorescence? PerkinElmer has now an amazing alternative to offrer, a range of GrowDex® hydrogels.
Nanocellulose-based GrowDex-hydrogels can be used and stored in room temperature and they create a human-like growth environment suited especially for scaled and automated research. GrowDase on the other hand enables and efficient and simple way to recover cells for downstream applications. Together they offer an ideal solution for 3D cell culture reasearch that provides consistent, reproducible and reliable results thus helping researchers predict the efficiency of drugs before moving to animal or human trials.
GrowDex is a plant-based material that is manufactured to the highest standards with strict quality control criteria to ensure lot to lot reproducibility. It doesn't contain any extra DNA, RNA or proteins and doesn't require specific temperatures in order to work, making it especially suitable for HTS and HCS research. And because it has been on the market for a while now, there are plenty of reference material. Tell us what kind of research are you working with and we'll help you to choose the best product for your research!
Read here how to transfer from animal-derived matrices to GrowDex!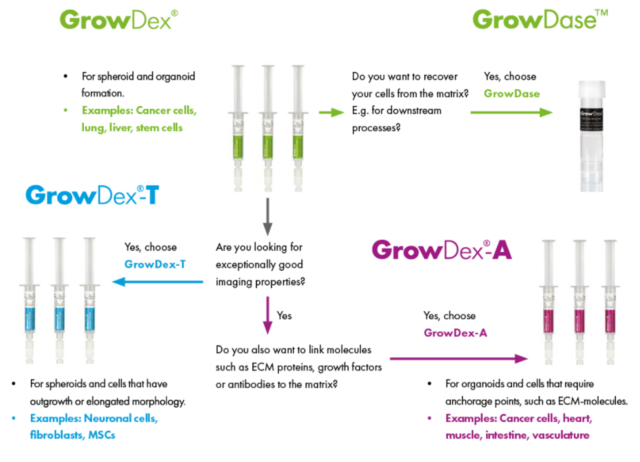 Benefits of GrowDex® Hydrogel
Animal-free: No animal biomolecules interfering with readouts.
Reproducible: Comprising nanofibrillar cellulose and purified water only, GrowDex hydrogels are manufactured to the highest standards with strict quality control criteria to ensure lot to lot reproducibility.
Reliable: Robust and sustained performance regardless of the production lot ordered.
Stable: Used and stored at room temperature, GrowDex hydrogels can be used in liquid handling systems.
Ready-to-use: Simplified protocol in which GrowDex hydrogels are mixed with media and cells.
Tunable: Optimal gel stiffness is achieved by dilution with cell culture media. Matrix composition can be optimized easily by supplementing cell culture media with specific biomolecules such as growth factors.
Compatible with high-content screening systems: No auto-fluorescence and transparency.
For more information, see the links below:
GrowDex-A Instructions for Use
GrowDex Instructions for Use
GrowDase Instructions for Use
GrowDex-T Instructions for Use
APPLICATION NOTE
Guidelines for using GrowDex in cell-based assays
GUIDE
GrowDex Technical Protocols
GUIDE
Guide to Reducing the Cost and Time to Set-up Reproducible HTS/HCS with 3D Cell Models